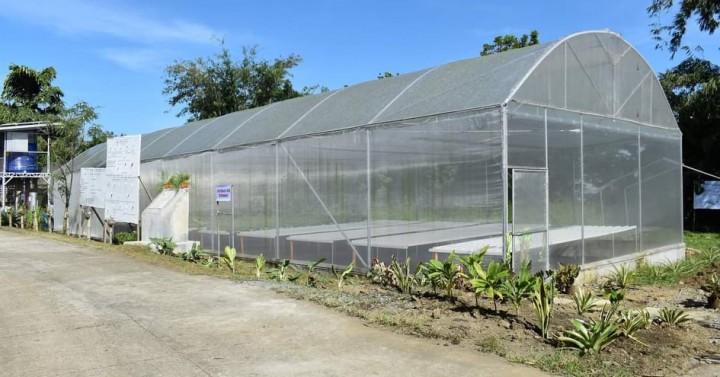 ILOITO CITY – A total of 11 smart greenhouse units in Barangay Hamungaya, Jaro district will provide high-value crops year round to alleviate fears of a food shortage in this time of pandemic.
The smart greenhouses are expected to be completed at the Integrated Agricultural Research Center of the Western Visayas Department of Agriculture (DA-WESVIARC) in the first quarter of 2022.
Information technology-based or smart greenhouses are funded by the Korean government through the Korea International Cooperation Agency (KOICA), Regional Agriculture Executive Director Remelyn Recoter said in an interview on Friday.
The project costs PHP 5.5 million, with each unit priced at PHP 500,000, she said.
"The technology is not the same with hydroponics. It's more high-tech, "she added.
Recoter said the installation does not require any manual operation as it is computerized.
The computer determines the temperature and nutritional requirements of the plants to be grown.
A greenhouse is a structure whose walls and roof are mainly made of transparent materials, such as glass, where plants grow that require regulated climatic conditions.
Smart greenhouses will prioritize growing peppers, tomatoes and mushrooms, she added.
KOICA will also launch a similar project which will be implemented in Aklan, Antique, Negros Occidental and other urban centers next year and will be managed by farmers' associations.
Recoter said the projects are all grants that involve significant funding to cover training for farmers and consultants.
If there hadn't been a pandemic, she said, farmers would likely be sent to Korea for training.
Meanwhile, as part of the One DA reform program, six greenhouse projects, with funding of PHP1 million each, were handed over to their beneficiaries last month.
These greenhouses use hydroponic technology to deliver locally grown, sustainable, accessible and affordable food to communities and reduce the effects of the pandemic, especially in urban areas.
The projects were handed over to the provincial governments of Capiz, Antique and Guimaras; the municipal governments of Iloilo and Bacolod; and Aklan State University.
"The projects were funded under the Bayanihan to Recover as One Act (Bayanihan 2) in relation to food security. They can grow leafy vegetables in hydroponics, "she said. (ANP)