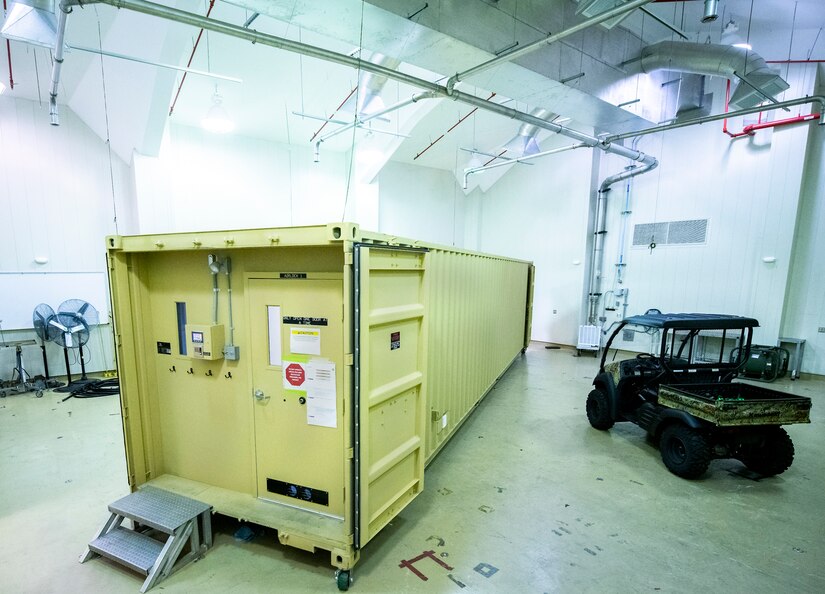 EGLIN AIR BASE, Florida –
The 28th Test and Evaluation Squadron recently tested a modified shipping container called Conex for collective protection against biological and chemical attack during a week-long demonstration here.
The squadron's Agile Combat Support Division managed the CPC test at its only controlled environment facility. The division's engineers and chemists evaluated the functionality of the heavily modified and instrumented conex airlock, clean air requirements, purge rates, leak testing and the overall ability to withstand a contaminated environment.
During testing, the CPC was exposed to carefully distributed and monitored chemical and biological simulants to ensure an operationally relevant environment. All measurements and results were recorded using ACS calibrated instrumentation.
The objective of the successful demonstration was to evaluate and prove that the CPC could withstand attack and maintain a non-toxic environment in the container, while maintaining the proper purge rates in airlock configurations.
After the testing was completed on Oct. 19, the data collected proved that the material and technology used to build the CPC was suitable for maintaining a toxic-free environment, according to Captain Jason Kons, ACS Division Manager.
The CPC project, in gestation for six years, was created to provide a protected environment for crews, maintenance technicians and flight line employees in the event of a chemical and / or biological attack.
"Without land power, there is no air power," Kons said. "Our airmen need to know that they can confidently implement our nation's defense strategy effectively and efficiently, while maintaining their health and safety."
The design of the CPC has changed and changed over the past year based on real-world COVID-19 requirements. The CPC's overall goal of maintaining containments outside has been reversed for the negative pressure Conex. The NPC kept the contamination inside instead during its use, transporting more than 200 COVID-19 patients around the world. The ACS division here also participated in the NPC tests.
The positive results and data from the ACS are transferred to the Human Systems Division of the Air Force Life Cycle Management Center for further development of the CPC.
"Our Air Force strategy of positioning and projecting air power around the world is based on our ability to launch and recover planes from the ground," Kons said. "Based on the results of the assessment, our Airmen will have the opportunity to operate with confidence in all corners of the world, regardless of the contested circumstances. "
The 28th TES is a unit of the 53rd Wing headquartered here.