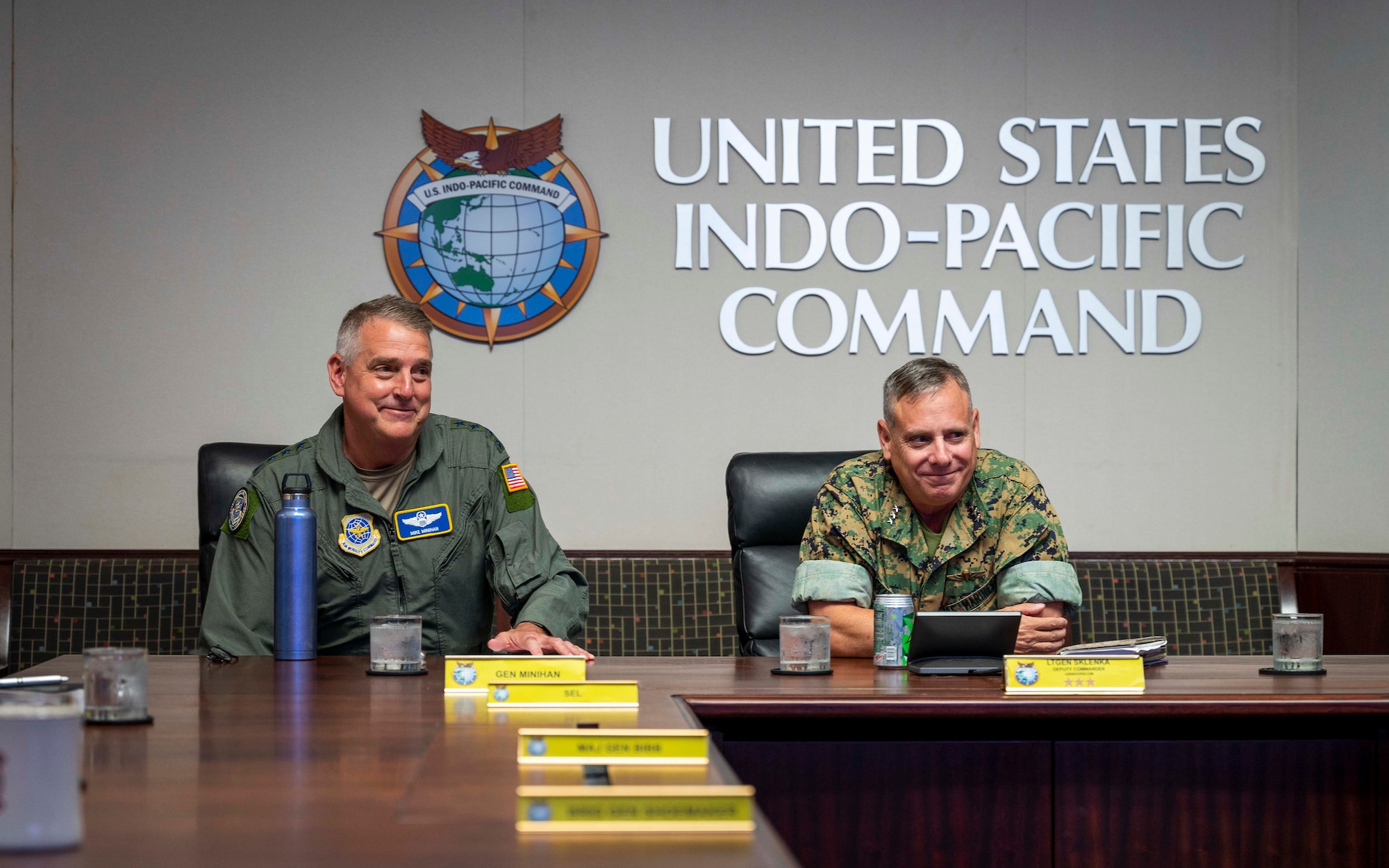 SCOTT AIR FORCE BASE, Ill. —
Air Mobility Command leaders continued the operationalization of the new command strategy during staff discussions at Pacific Air Forces and U.S. Indo-Pacific Command, June 22-23, 2022, where they discussed a roadmap to prepare Mobility Air Forces for agile combat employment. in the Indo-Pacific theatre.
The strategy, which focuses command on four mission imperatives to ensure the MAF is able to compete and win against its stimulation threats, was presented through a Pacific lens to ensure alignment and refinement future with PACAF and INDOPACOM.
General Mike Minihan, who spent the last decade in the Indo-Pacific before taking command of AMC, reinforced the important role of command in theater and the challenges it must overcome.
"AMC is the significant maneuver force for the joint force in the Pacific," Minihan said. "MAF will be ready for any challenge and we will continue to drive with our focus on winning."
The meetings provided an opportunity to capitalize on lessons learned after Russia's invasion of Ukraine and AMC's role in helping move $6.3 billion in security assistance to Ukraine , as well as last summer's Operation Allies Refuge where more than 124,000 Afghan civilians were evacuated on AMC aircraft over a 17-day period.
Throughout these eventualities, AMC executives have always kept an eye on the other side of the world.
Next summer, AMC will host its first bi-annual Mobility Guardian '23 from locations across the Indo-Pacific, where the command will showcase an updated Mobility Maneuver Map for ACE. The meetings in Hawaii laid the groundwork for the rehearsal of MG23 as the AMC begins its series of planning conferences.
"ACE is about interoperability between commands and between our sister services," said General Ken Wilsbach, Commander of Pacific Air Forces. "ACE is essential to maintaining strategic initiative and presenting credible lethal combat power in unpredictable ways. Sharing lessons learned and coordinating as we do on this visit ensures our agility and preparedness, enabling us to outrun our adversaries and deliver air power anytime, anywhere to support a free Indo-Pacific. and open.
In addition to discussions on MG23, PACAF provided information on mobility in preparation for upcoming operations in the Indo-Pacific, while AMC presented classified briefs on the Command's "Fight Club" and the aerial refueling in a contested environment to USINDOPACOM and its air component. .
This visit was part of a series of staff visits with AMC counterparts across the Air Force and Joint Force. Command leadership visited Air Force Special Operations Command in February and will meet with Air Force Global Strike Command in the coming months.
Minihan and Chief Master Sgt. AMC command chief Brian Kruzelnick also spent time with Airmen from the 515th Air Mobility Operations Wing, based out of Joint Base Harbor-Hickam Pearl, June 22. The wing is one of two responsible for executing the Global Air Mobility Support System worldwide.
During their visit, they received mission briefs from the Wing, recognized several performers and conducted an all-call with approximately 150 Airmen.
"We're going to win thanks to you," Minihan said on the All Call. "You are the experts [in the Pacific] and you display exactly the culture I want through the AMC echelon.
"You are appreciated, each and every one of you," Kruzelnick added. "We care about you and we will do everything we can to remove obstacles in your path."