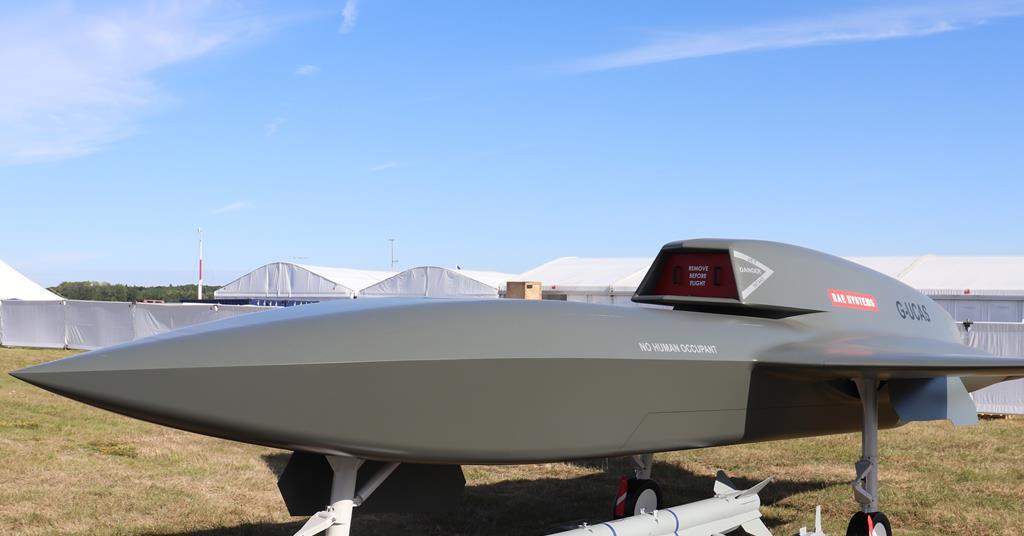 BAE Systems has unveiled a pair of new unmanned aerial systems (UAS) concepts as it considers an opportunity to produce such assets to form part of Britain's Future Combat Air System (FCAS) capability.
Displayed at the entrance to the row of chalets during the Royal International Air Tattoo (RIAT) from July 15-17, the designs are the result of conceptual studies carried out by the British company.
Sized as a "loyal wingman" type airframe and with a maximum takeoff weight of around 3.5 t, the larger "UAS 2" platform would carry 500 kg (1,100 lb) of weapons in internal bays , such as two MBDA Meteor air-to-air missiles or four MBDA Spear Series 3 air-to-surface missiles.
The "attritable" concept would be capable of performing more than 100 sorties, according to BAE, either by replacing or augmenting manned resources. Operating performance would be approximately Mach 0.75 up to 40,000 feet, with a projected range of 5 hours.
Dubbed "UAS 1", the smaller vehicle is intended to perform tasks such as intelligence, surveillance and reconnaissance, electronic or ground attack, with a 40 kg (88 lb) sensor or payload of weapons. Deployed using a rail launcher, it could be fitted with a parachute recovery system if intended for re-use and use as a single vehicle or as part of a swarm.
With a 4h endurance, the design would fly up to 30,000ft and M0.5.
Both systems would be containerized and potentially also suitable for deployment from maritime platforms.
Simon Reeves, head of future systems at BAE Systems Air, says these assets will rely on artificial intelligence technologies, noting: "Autonomy will play a role in the blending of forces."
BAE believes such a capability could be deployed well ahead of the 2035 timeframe and more targeted for future manned combat aircraft via Britain's Team Tempest effort.
"We know this is something our customers want and need," Reeves says of such a family of UAS. "We see a need much closer than the 2030s."
BAE's concept study work was conducted outside of its involvement in the Team Tempest/FCAS industry consortium, which also includes Leonardo UK, MBDA UK and Rolls-Royce.
The aircraft manufacturer has extensive experience in the development and testing of advanced unmanned systems, including types such as Herti, Mantis and Taranis, and through activities such as the Astraea airspace integration effort at the UK.
The emergence of its RIAT-faithful winger concept came just weeks after the UK Ministry of Defense canceled its Project Mosquito effort, which saw Spirit AeroSystems Belfast and Northrop Grumman investigate the feasibility of producing a Loyal winger type at low cost.