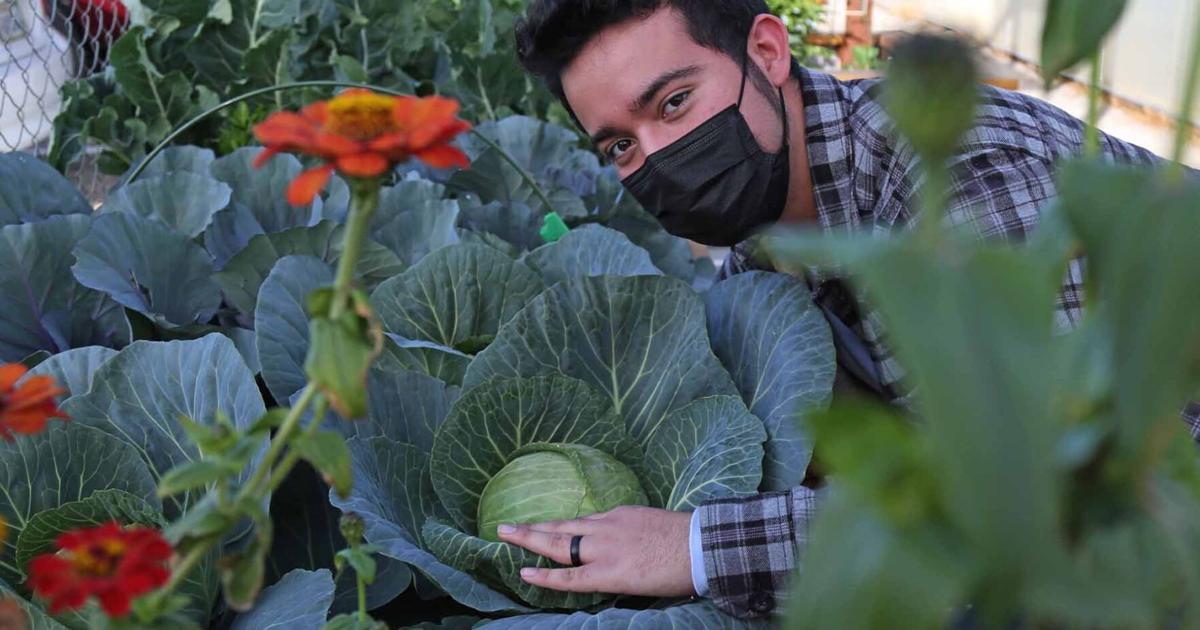 BRAWLEY— Students, teachers and volunteers remodeled the Department of Agriculture Greenhouse building at the corner of A Street and 5th Street across from the main campus of Brawley Union High School.
The upgrade included a student garden section for special projects, an outdoor raised garden, cement borders for perennials, and compost bins.
A major element of the agricultural program was a location to grow vegetables. Over the past five years, the school's greenhouse and surrounding area have deteriorated, making it difficult for students to grow vegetables.
"Students learn the basics of growing and growing vegetables," said Michell Taylor, who has taught agriculture for more than 25 years at BUHS. "They also learn to grow vegetables with less space by growing them vertically."
"Last year during the pandemic, we made changes to accommodate a student garden section for special projects," Taylor said.
Using a complementary planting technique, the vegetables were paired with another vegetable or flowering plants that were natural insect repellents, according to Taylor. This allowed better growth and simultaneous cultivation of the plants. "We grew them without pesticides or herbicides," Taylor said.
"I planted peas here," said Ernesto Rodriguez, 15, who showed several white square containers with peas growing at different levels of maturity in the student garden section inside the greenhouse. Some of the peas had dried leaves and others were still fruiting.
"I can consider growing square watermelons," Rodriguez said. Taylor said the freshman was highly motivated.
"I love this project," said Brooke Whittle, 15, pointing to lettuce plants growing in small containers.
"I like its simplicity," said 15-year-old Abigail Lipis. "People can do a similar garden project at home."
Whittle and Lipis had similar projects on the same table growing lettuce and other leafy greens. These were harvested by cutting several leaves at a time, allowing the plant to grow more leaves. "Each plant can be harvested 3-4 times," Taylor said.
In another section inside the greenhouse, 18-year-old Carlos Luna pointed to a row of white square containers with tomatoes. Each container was connected by a main water pipe and a smaller diameter side tube that redirected the water to the roots of the tomatoes.
Instead of using soil, the tomatoes were grown using a combination of perlite, vermiculite, peat moss and compost. These have been blended to allow for healthy root growth. However, nutrients were missing from this soil alternative.
Fertilizer, a major source of nutrients, was mixed into the water source and the dissolved nutrients were pumped directly to each plant container where the roots can easily absorb them, Luna said. The senior student said the main nutrients were nitrogen, phosphorus and potassium.
Luna showed off the raised outdoor garden installed along the fence. The vegetables were ready to harvest and the flowers were blooming. There were cabbages, strawberries, kale, chard and zinnias.
In the southern section of the greenhouse along A Street, landscaping students from the Imperial Valley Regional Vocational Program mixed cement and water to create borders for a section of garden to be planted with perennials – plants that grow for longer seasons.
Next to the landscaping project was a compost section where biodegradable waste was mixed and turned into compost.
"This compost will be used by students in the agricultural education class to cultivate and grow vegetables," Taylor said.