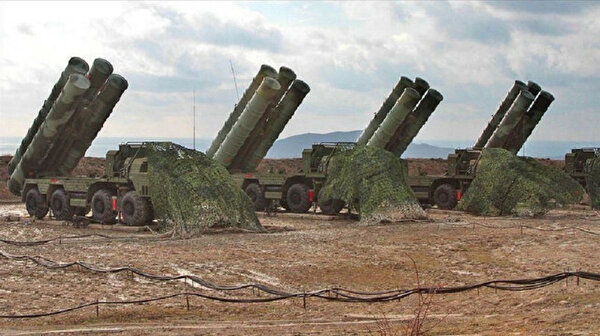 Questions persist as to which air defense system is most capable of meeting a country's national security objectives, with the Russian S-400, US Patriot and Israeli Iron Dome systems at the center of ongoing debates.
Although several countries trust these systems, especially those located in conflict zones, certain conditions raise questions about their reliability.
Israel's Iron Dome system, which failed to block missiles from Palestine, is frequently discussed, while the Patriot air defense system has become a hot topic due to its inability to stop Houthi rebel attacks against Saudi Arabia using inferior missiles.
The Saudi-led coalition has long been fighting the Houthis, and although Riyadh has spent billions of dollars in recent years to build six battalions of US-made Patriot surface-to-air missiles and associated radars, they have failed. could not stop the recent rebel attacks.
– Patriot against S-400
Tolga Sakman, president of the Istanbul-based Center for Diplomatic Affairs and Political Studies, said the Patriot defense system was typically designed to combat ballistic missiles and aircraft.
"Vehicles that can fly closer to the ground such as cruise missiles and UAVs (unmanned aerial vehicles) cannot be detected by the Patriot's one-way radars," he noted.
Comparing the Russian S-400 and Patriot systems, he said that "we can talk about the superiority of the S-400", adding that the most important technical difference is the range, and that the S-400 has advantages in terms of range.
In addition, the S-400 is considered to be ahead in many aspects such as cost, battery capacity, and speed.
Sakman noted that the relatively new S-400 system was not used in active combat, but there is a strong opinion that it has more potential for development.
Noting that the Patriot system has been produced in large numbers so far, purchased by many countries and used in many conflicts, he stressed that it is effective against ballistic missiles and aircraft but insufficient against different types of missiles and vehicles.
"The S-400, on the other hand, is capable of using versatile mobile radar masts to combat this problem.
"It is very important to detect drones, which have an important place among the planes of the future, through the system," he added.
Can Kasapoglu, director of the security and defense studies program of the independent Istanbul-based think tank, the Center for Economics and Foreign Policy Studies, said the S-400 is a weapon of area denial rather than an anti-ballistic missile system.
Kasapoglu said the S-400 system is theoretically effective against an adversary's strategic catalysts such as tankers and airplanes.
"The biggest caveat would be its autonomous character within the Turkish framework," he noted.
He added that the S-400 system is unreliable in intercepting missile threats.
– S-400, sanctions, effects
Turkey, which needs an air defense system due to ongoing conflicts in its region, chose the Russian S-400 system due to Washington's negative attitude towards Ankara's demand for the Patriot system. .
As a NATO member country, Turkey's decision sparked discussions and the United States decided to implement the Countering America's Adversaries Through Sanctions (CAATSA) law against the country.
U.S. officials have claimed the S-400 will be incompatible with NATO systems and expose next-generation F-35 fighter jets to possible Russian subterfuge.
According to CAATSA sanctions, which took effect in April 2021, Turkey's Defense Industries Presidency cannot obtain an export license from the United States and benefit from credit programs from the United States and institutions. financial associated.
The United States has also imposed visa restrictions on some Turkish defense officials, including Presidential Chief Ismail Demir.
Turkey is the first NATO member country to face CAATSA sanctions, which have also been imposed on other countries, including Russia, Iran, North Korea and Venezuela.
CAATSA sanctions can also include more stringent measures such as stopping trade and foreign currency transactions.
While Turkey signed an agreement for the S-400 system in 2017, the country also carried out several indigenous air defense projects under the control of the Presidency of Defense Industries.
Sakman said the principle of an embargo the United States uses as a tool of political pressure, and which has recently been institutionalized by legal grounds such as CAATSA, appears to have generally worked.
"These embargoes, which were built on reducing the capacities of the target country, have often caused splits," he said.
He said that international embargoes often force the target country to find new partnerships, and it is not always the case that these processes support domestic production in the field of defense.
"As a result of some long-term embargoes, states are found to support domestic production, but the lack of (production) capacity in these places also affects production standards. As soon as Turkey started to produce, it produced a product (in the field of defense). "
Such embargoes have supported Turkish production with an equivalent or new concept, he noted, claiming that Turkish production of unmanned aerial vehicles has reached a power that cannot be compared to any fighter jets.
"However, with the effect of joint commitments, production plans can always be reviewed. There are not many states whose standards and obligations under the NATO alliance have been tested by embargoes. "
– Technical characteristics
The S-400 system can detect threats within a radius of 600 kilometers (372.8 miles) and it has different types of missiles to shoot down threats in different ranges, from 40 km (24.8 mi) to 400 km ( 248 mi).
The Patriot's radar can detect threats within a radius of approximately 150 kilometers (93.2 miles), while it can shoot down targets within a radius of 20 km (12.4 mi) to 160 km (99.4 mid).
The S-400 can fire ballistic missiles within a 60 km (37.3 mi) radius, while it can fire aerodynamic targets within a 400 km (248 mi) radius.
The S-400 can shoot targets at an elevation of 10 meters (32.8 feet), while the Patriots can shoot targets at an elevation of 60 m (196.8 feet).
While the Patriot system was developed in 1982, the S-400 was created in 2007.
The Patriots need 25 minutes to get ready to launch, while it only takes five minutes for the S-400.
The S-400 can lock 72 targets at the same time, while the Patriot can lock 36 targets. Their radars can detect 160 and 125 different targets at the same time, respectively.
While the United States rejected Turkey's request to share the Patriots' technical specifications, Russia accepted that request and offered a better price.
Russia had previously sold the S-300 system to around 20 countries, including NATO members such as Bulgaria, Greece, Croatia and Slovenia. The S-400 system was purchased by Belarus, China, Turkey and India.
NATO Secretary General Jens Stoltenberg has previously said that developing military capabilities is a national decision for nations, while what matters for NATO is to ensure that systems can work together.