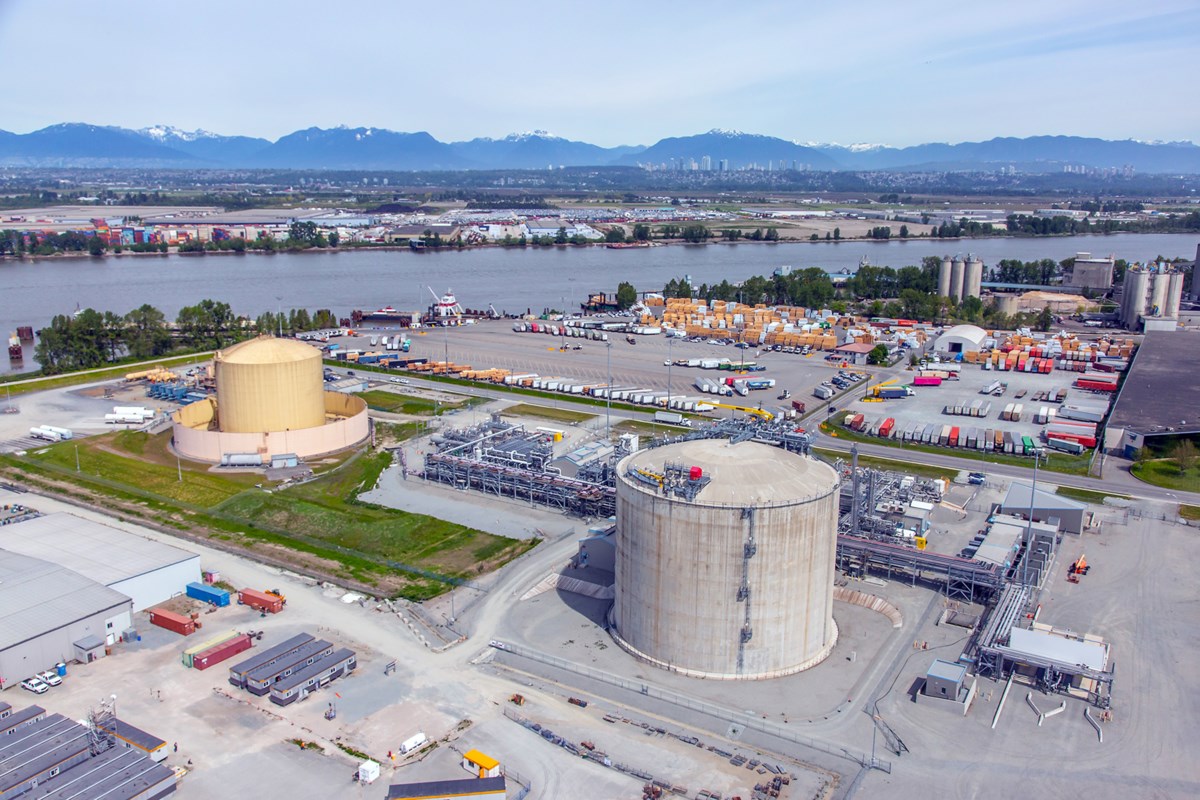 FortisBC claimed that Metro staff submitted an inaccurate and unbalanced report recommending that Metro Vancouver oppose the expansion of the Tilbury LNG plant in Delta, British Columbia.
Metro Vancouver's board has moved to defer a vote on the future of a proposed liquefied natural gas facility on the shore of the Fraser River.
The delay comes after Metro Vancouver's climate action committee recommended council oppose the Tilbury Phase Two LNG expansion project and associated jetty earlier this month, citing "upstream and downstream greenhouse gas emissions and inconsistency with Metro Vancouver's climate goals."
Tilbury LNG's $3 billion Phase Two expansion project would result in a 10-fold increase in its LNG production capacity.
FortisBC, which manages the Delta facility, says it needs to expand its LNG capacity to supply an international market, supply gas to the shipping industry – including BC Ferries – and offer backup to Metro residents Vancouver during cold spells in case of gas line disruption like in 2019.
The company says the expansion project would support 6,000 full-time construction jobs and 110 full-time operations jobs to keep the plant running.
But critics say the increased capacity at Tilbury threatens to release more greenhouse gases into the atmosphere and poses a number of direct risks to human health, such as the potential for a catastrophic fire in a densely populated urban area.
"If a ship blows up, then all of Steveston is gone," Richmond Councilor Harold Steves of the coastal village said on Friday. "It's a bit concerning."
The controversial project has prompted a number of local governments — including the cities of Vancouver, Port Moody and Richmond — to declare their official opposition to the expansion of the factory. The City of Delta has not yet taken a position on the project.
The marine jetty project, which would serve as a berthing facility for refueling and loading LNG carrier vessels, is two weeks away from completing the province's environmental assessment review. Federal and provincial ministers will then have 45 days to reject, approve or order further assessments of the project.
A decision on the Tilbury LNG expansion project, meanwhile, is not expected until late 2023 or early 2024.
Shows kept off the books
In opposing the project, Metro's staff report points to the limited scope of the provincial environmental assessment process, particularly when it comes to its exclusion of upstream and downstream greenhouse gas emissions.
LNG is essentially supercooled liquefied methane. When this methane escapes into the atmosphere – during production, transport or storage – it produces a warming effect about 86 times more powerful than carbon dioxide.
Metro staff estimate that the facility's annual operations would release 15,000 tonnes of carbon dioxide equivalent emissions. But if upstream and downstream emissions are counted, that figure rises to more than 11 million tonnes of emissions per year, or more than 733 times higher.
Upstream emissions include things like fugitive emissions from fracking and transportation, and could be as high as 2.2 million tonnes of carbon per year, according to the staff report. This would represent up to 29% of BC's oil and gas sector emissions target for 2030.
FortisBC says LNG will act as an important intermediate fuel that burns cleaner than oil and can be used to power power plants and the hard-to-decarbonise shipping industry.
But Metro staff noted that there is "significant uncertainty" about the climate benefits of LNG. In the worst case, it could make things worse, they said.
"Leading global organizations, such as the IPCC, IEA and World Bank, note that LNG plays a limited role in a net zero future and that expanding LNG infrastructure carries considerable risk in when it comes to blocking GHG emissions," Metro wrote. staff in a recommendation to the Climate Action Committee on July 13.
FortisBC says Metro staff provided council with inaccurate and 'unbalanced' information
Representatives from FortisBC told the board on Friday that Metro staff had made a number of errors in assessing emissions associated with the Tilbury LNG expansion project.
"FortisBC believes that the information provided to the board by staff is unbalanced and does not accurately represent projects," Doug Slater, FortisBC's vice president of external and Indigenous relations, wrote in a letter ahead of the board meeting.
Andrew Hamilton, FortisBC's senior project manager for the Tilbury gas projects, told council Metro staff had failed to consider the positive effect the plant would have on local air quality.
He also highlighted how the project aligns with the Provincial CleanBC Roadmap and the Federal Transport Minister's mandate letter calling for the conversion of ships from heavy fuel oil to "environmentally friendly fuels like LNG".
The Metro staff report "understates the role LNG will play in decarbonizing the marine sector," Hamilton added.
Of the approximately 80,000 ships registered worldwide, those powered by LNG number in the hundreds, although some expect this could increase to 1,000 ships in the world by 2030.
"It seems to me that Metro Vancouver staff use different data sources than Fortis and our consultants used in developing our reports." said Hamilton.
"Tilbury is powered by renewable hydroelectricity and is designed to be one of the cleanest LNG facilities in the world.
Administrators push back against FortisBC claims
A number of directors have rebuffed FortisBC's claims.
When Metro Director and Vancouver City Councilor Christine Boyle asked if FortisBC had calculated emissions upstream in its plans for the facility, Hamilton said the use of renewable gas had complicated that calculation and they still worked there.
Only about 1% of its current gas supply was renewableFortisBC's Jason Wolfe told CBC News in January.
Electoral Area A Director Jen McCutcheon asked Hamilton how much fuel would be exported through an expanded terminal and how much would be reserved for local consumption.
Hamilton could not give a definitive answer, citing changing market conditions, but said forecast LNG demand from the Port of Vancouver suggests a "significant portion" could be destined for the local market.
In opposing the Tilbury project, Metro executive and Vancouver councilor Adriane Carr said the region has a responsibility to reserve renewable natural gas for British Columbia's trucking sector, one of largest contributors to the province's greenhouse gases and an industry notoriously difficult to decarbonize.
Carr pleaded for listening to science.
"We are on the eleventh hour in terms of climate change mitigation and scientists are pleading with politicians to phase out our use of fossil fuels very quickly," she said. "Expanding fossil fuel infrastructure is not the way to go."
Other directors, however, asked the board to wait for the environmental review process to release more information.
When called, Metro's director of air quality and climate change, Roger Quan, said that unlike the pier project, federal regulators require the environmental review process for the Tilbury's expansion includes upstream emissions. Downstream emissions, however, will still be excluded from the process, he said.
Ultimately, Delta Mayor George Harvie asked Metro Vancouver's board not to take a position on the project until the environmental review process was complete.
Harvie successfully submitted a motion to return the Tilbury project to staff until then.