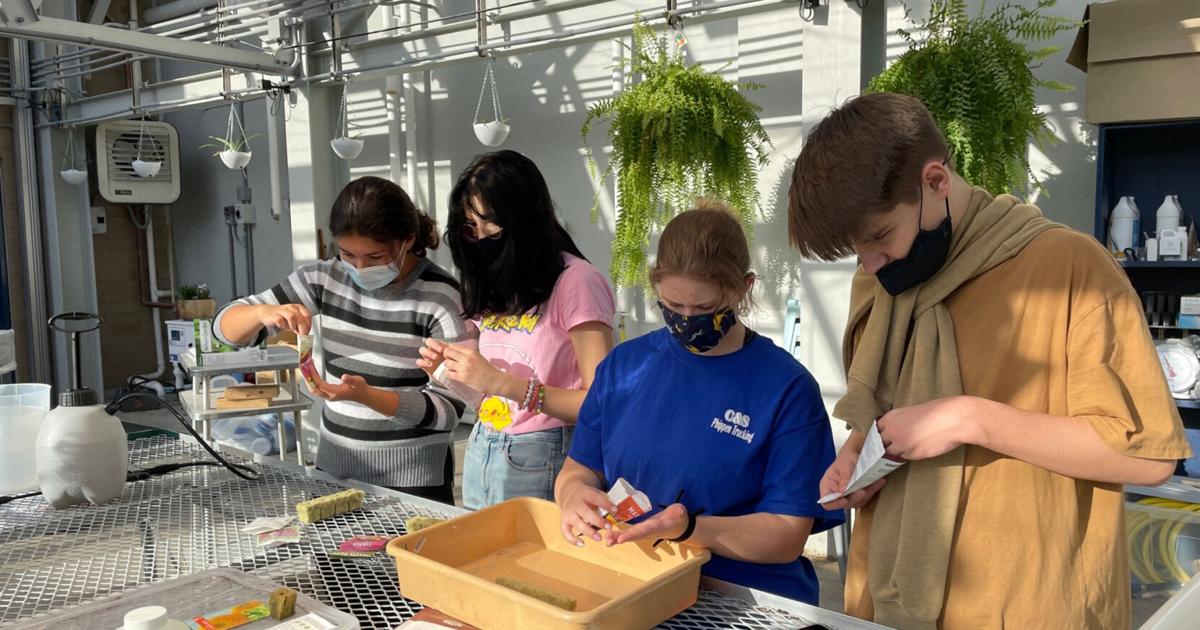 BRASHER FALLS — A greenhouse completed over the summer provides many learning opportunities for students at St. Lawrence Central School.
"There's a whole bunch of stuff going on," Jerusha Chapman-Hirsch said.
Mrs. Chapman is the contact person for the greenhouse.
"I run all the programs and make sure that if any groups come in, everything is taken care of appropriately," she said.
This is the first year the greenhouse has been operational, and she said it's been used for a variety of purposes other than just growing things.
"We're trying to introduce lessons right now and figure out what we can do, like an individual lesson plan," she said.
For example, an art class might come down to do a drawing study, "or the choir will come down and sing in space because it's a completely different space," Ms. Chapman-Hirsch said.
It is even used for forensic medicine.
"Forensics is coming next week and they're doing dirt sampling studies," she said.
She said the elderly serve as interns for the project.
"So they get hands-on, on-the-job training to know what working in the real world and working in a greenhouse is like," Ms. Chapman-Hirsch said.
There are plans for an eighth-grade conservation class next year, as well as an optional high school conservation class.
"The high school class will go a lot deeper into the science side of it," she said, noting that one of the projects would help the state Department of Environmental Conservation count birds.
Students in the conservation class will have the opportunity to trace a nature trail on the property, experiment and grow different things in the greenhouse, or study and give presentations in class.
In addition, the school has a Greenhouse Club which meets twice a week.
"We have a high school-only day and a high school/college day because we're just trying to get everyone involved," Ms Chapman-Hirsch said.
Of course, the greenhouse, located near the school gymnasium, also produces plants and vegetables.
"This year, we are really trying a bit of everything. So we have a table entirely dedicated to vegetables. We have a bunch of succulents because succulents are kind of an easy activity if the class wants to come in and get their hands dirty or something," she said.
They also grow houseplants, and there's a giant aquarium that will be a temporary home for native species of fish like trout.
"We're supposed to take them out for 90 days and then we'll release them back into local waterways," Ms Chapman-Hirsch said.
For the future, the students made a proposal to create a pollinator garden, which they started in the fall and will finish in the spring. This first phase of work was carried out by the greenhouse team, the conservation class and the Greenhouse Club, removing large weeds and smothering the current plants with cardboard.
There is also a courtyard garden in the works. The Greenhouse Club won a budding botanist scholarship from the Klorane Botanical Foundation and the KidsGardening association. Students in the Greenhouse Club and Conservation Class help design the garden and build raised beds during the winter so they are ready to start planting in the spring. The garden will be managed by students.
"We're going to build a vegetable garden and a fruit garden in the backyard to augment what we're doing in the greenhouse and for other classes to use as a study experience, and of course food picking and stuff. like that," Ms. Chapman-Hirsch said.
"Essentially, we're really trying to expand the hands-on learning opportunities for our students," said high school principal Kristen Zender. "In particular, we looked at regional opportunities to partner with industries where the skills students develop can easily be transferred to potential employment, economic development for the region, and more. We began to quickly develop partnerships with many local businesses. and are excited about the rapid trajectory of the greenhouse program as well as the development of a bee program at the same time. »
Stay up to date on greenhouse and backyard garden efforts by visiting wdt.me/SLCgreenhouse.